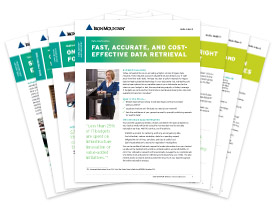 Sort it, Store it, Destroy it.
Register to access our "Get Organized" Toolkit – a kit that will spring your business ahead of the pack by giving you attainable steps to sort, store, and destroy your data securely.
With Iron Mountain Data Backup and Recovery services you can learn how to:
Sort it to understand the contents of your backup tapes through proactive indexing and manage the entire scope of relocating your backup and archive media.
Store it in our secure, offsite facility and have your data available when you need it through our comprehensive solution for transporting, managing, and retrieving your backup media.
Destroy it and reduce your overall risk with our secure destruction of electronic media.
Download the Toolkit
and Get Organized.