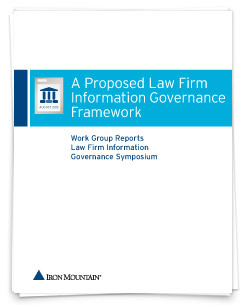 Work Group Reports from the Law Firm Information Governance Symposium
Law firms are at a critical juncture: Clients have a spotlight on their information management, digital media is growing exponentially, and lawyers and clients and their information are increasingly mobile. Recognizing that the industry needed a collaborative platform to explore an information governance (IG)framework to help law firms respond to the brave new world, Iron Mountain partnered with a group of law firm leaders to design and host the Law Firm Information Governance Symposium.
Download a copy of the findings and recommendations from the Symposium Work Groups
Work Group 1: Defining an Information Governance Framework – What is it and how does it work in the law firm environment?
Work Group 2: It Takes a Village: Managing Information Governance – How can departments work together to develop and run IG processes?
Work Group 3: A Proposed Law Firm Information Security Assessment Framework – What are the best ways to assess and manage information risk and compliance?
Work Group 4: How to Move Forward with an Information Governance Program in a Law Firm – How can firms develop strategies for communicating with lawyers about IG, developing staff proficiencies, and garnering resources for the journey?